El Cerrito Senior High School


Class Of 1964

What's New


Not a member?
JOIN HERE
Find and click on your name.

Posted on: Sep 17, 2020 at 2:53 AM
Happy Birthday Louise!!!!!!!!!!!!!!!!!
Posted on: Sep 17, 2020 at 8:25 AM
Happy Birthday, young lady! Hope you are healthy and doing well in these difficult times. Think of you often......??
Happy Birthday Bobbie, Bob. It's been a lot of years since Alvarado. Have a great day.
Les
Jackie was always sweet and kind to everyone. I think all of us girls were always jealous of her petite little frame, those big eyes and her beautiful long hair.
It seemed the bond you had as kids was very special. Having twins for grandchildren I think I have a better idea of the closeness you felt.
So very sorry for your loss Jack.
Leslie Edwards Gadwood

So sad for you Jack. It's hard enough to lose a sibling but a twin?
I remember first meeting you both at St. John's Catacombs Club...the only party my mom
would let me attend!
Posted on: Jun 29, 2020 at 11:46 AM
Happy Birthday Jill. I haven't spoken with you forever. I hope things are going well for you and you are staying well during these crazy times. If you get a chance, write back and let me know how things are going for you and your family. It's been so long, that I should call rather than waste my time texting. We're At a Tahoe now but when I get home I think I will do that. I heard some sad news through an El Cerrito group on Facebook that a Jackie Palumbo passed away. It was posted by Joanne Phillips brother who was told by Jack. I may be wrong but I recall you and Jackie being good friends. I hope you have a very special day. Les
Posted on: Jun 24, 2020 at 7:51 PM
So here we are still mostly sheltering in place. I wanted to offer a weekly important message. This week - how many of our Gauchos would eat breakfast for dinner. How many might consider it now. We had pancakes and sausages for dinner tonight. When you are home so much, you need variety!

Best wishes to Class of 1964 Gauchoes. Any thoughts about other ideas to keep our shelter in place more interesting??!!

Dave
Posted on: Jun 25, 2020 at 7:57 AM
Karen!!! Just signed on to this for the first time in years. I live in my home in Kensington .....101 Windsor corner of Westminster. Call me next time you are in town 510-918-7575. Would love to see you! Cath
Posted on: Jun 25, 2020 at 10:53 AM
Hi Cheryl, Glad you joined in. It's always nice to hear from someone new.
Les
Posted on: Jan 25, 2020 at 9:26 AM
I am sad to share the news that Tim Shaw passed away yesterday, January 24. He was a long time teacher and administrator with the West County School District, serving many years as the Adult School principal. Personally, I remember him most for supervising many, many annual week-long study trips for 8th graders to Washington DC that included my sons 30 years ago. It was not for the faint of heart, but Tim had great joy and enthusiasm in expanding their experiences and knowledge. He will certainly be missed.
Felicitations upon your successful completion of Yet Another Annual Free Trip Around the Sun!
Hi John, Happy Birthday. Hope you're managing to stay healthy and safe during these crazy times. We missed you at the reunion. It turned out to be lot of fun. Have a great year..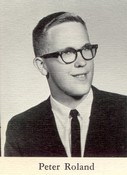 Happy belated BD greeting. If you recall, we use to read mystery novels in Mr.Headly's class
Belated birthday wishes Carter. Gary said let him know when you're ready for a scooter ride.